Through expert teams, we are able to deliver required solutions and information to support our clients' business requirements. Our marine and cargo surveyors have ensured the safe and efficient stowage and loading of commodities ranging from dry bulk to more challenging cargos such as hazardous chemicals.
Initial, Interim and Final Reporting:
We ensure that the clients are well informed about the status of the assignment. We make best use of all possible latest technology for being connected to the clients and to our own employees.We are equipped with state-of-the art facilities to obtain critical reports and first hand information which has given us a cutting edge over our clients. We also maintain back-ups and provide our clients with hard copies for their records. To know more about our services please click on the links given below.
Vessel Surveys
Supervision of loading and unloading
Draught Survey
Ullage Survey
Sampling
Analytical and testing Labarotories
Industrial Survey
Pre – Shipment Inspection
Cargo Superintendency
Cargo Survey
Tally of all types
Analysis of all petroleum and petroleum products
Analysis of Agri products
On Hire & Off Hire bunker/Condition Survey
Bunker Survey
Scrap Survey
Hold Cleanliness Survey
Water tightness of Hatches
Survey of Hull and Machinery damages.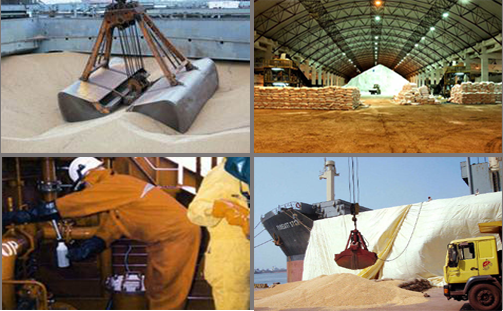 The commodities generally covered under the services we provide are listed here below
Agricultural commodities:Grains, Sugar, Maize, Animal feeds, Dairy food products, Spices, seeds & pulses Rice etc.
Bulk raw materials:Ores, Minerals, Ferrous and Non-ferrous Metals & Scrap, Concentrates, Coal and Coke, Raw Cotton, Rubber, Timber and Fertilizers
Consumer Goods:Textiles, Machinery & Parts, Finished goods, Leather products, etc.
Marine containers survey
Checking and Issuing of Cleanliness Certificate for all IMO Tank Container.
Supervising during special cargo export loading at factory premises.
On/Off Hire Survey of Marine Containers
Landing/loading tally, seal checking, pre/post repair surveys, stuffing/destuffing, bay plan and stack management.
Insurance Survey & Loss Assessment
Loss Assessment of Fire accidents of variety of Godowns/Shops/Industrial and Commercial Establishments.
Investigation of Fire accidents.
Pre-acceptance risk assessment Inspection.
Valuation of Properties and Machinery's for underwriting purposes.
Pre-Acceptance Risk Assessment Inspection.
Valuation
Engineering & Miscellaneous Insurance. It comprises of Motor Insurance. It include